Our patient Wilma Yu is both a scuba diver and a photographic artist — and the amazing thing is that she can do both at the same time! (I, on the other hand, can neither scuba dive nor take good pictures). She has traveled around the world to capture intriguing marine life. She recently completed a month long art show in September 2012 at the Gallery at 919 Market Street in Wilmington.
Please check her website at wyuphotography.com, where her calendars and prints may be purchased. Her art is available for display and she also enjoys giving presentations on marine life and her photography. Way to go Wilma!
She has shared two remarkable photos with us from Anilao, Batangas, Philippines 2012:
Yellow pigmy seahorse, about ¼ inch in size and hides amongst the gorgonians for protection.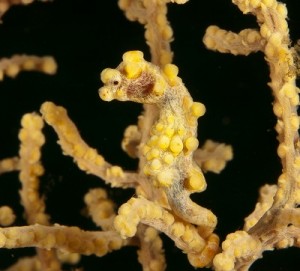 Nudibranch – Chromodoris, a type of sea "slug" noted for their external lungs (numerous projections on the tail end) and rhinophores (2 antennae like structures at the head).