About Wahl Family Dentistry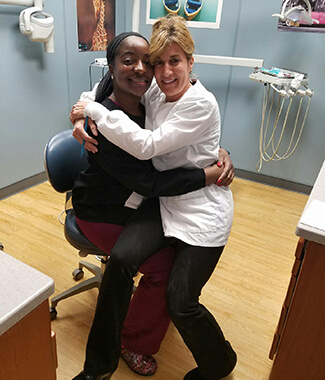 We've built a reputation for excellence over the past 60 years, and you'll love our down-home customer service. Our practice is state-of-the-art, and we bring patients contemporary, comfortable dental care with modern tools and procedures. Our facility features digital X-rays, which emit 80% less radiation than traditional radiograph system. You'll enjoy relaxing in an ergonomic dental chair and watching a television mounted to the ceiling while we care for your smile.
Wahl Family Dentistry Jingle
We recently celebrate 10-year anniversaries of our employees Kathy, Sherry, and Alyssa 1 at Tutto Fresco Restaurant. While we were at the restaurant, Danielle and Alyssa 2 created a catchy Wahl Family Dentistry jingle. Maybe Danielle's next destination is Madison Avenue!
Danielle and Alyssa 2 do it again!
Taking their talents to new levels, Danielle and Alyssa 2 created this new music video (to the tune of La Macarena), less than 24 hours after their first smash hit Wahl Family Dentistry music video. Way to go Danielle and Alyssa!
Wahl Family Dentistry takes the Mannequin Challenge
Just another day at Wahl Family Dentistry! Call us for your next dental appointment at (302) 655-1228! #MannequinChallenge #WahlFamilyDentistry
Wahl Family Dentistry Makes a Mixtape
Check out our amazing mixtape! We had so much fun making it! #WahlFamilyDentistry