Patient Information
Same-Day Appointments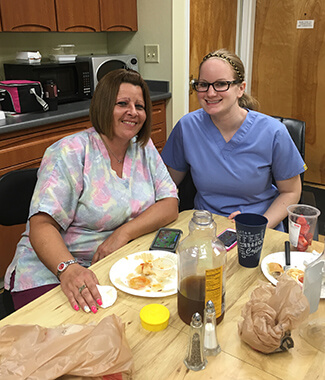 We never want you to postpone needed dentistry because of scheduling. Before Dr. Mervin Wahl became a dentist, he had a bad toothache. No dentist could see him for several days, so Dr. Mervin was awake several nights in pain. It was partly because of Dr. Mervin's experience that he resolved to try to see patients in need as soon as possible during office hours, especially patients in pain. The dentists and staff of Wahl Family Dentistry have all experienced poor customer service in various businesses, and that's one reason we strive to be the opposite and give excellent customer service! Our dentists feel so strongly about customer service and convenience that we offer same-day appointments whenever possible. You can, of course, schedule your dental visit in advance. However, if you know that you need to see a dentist immediately, we'll usually get you in on the same day you call.
Your First Visit
New patients should expect to spend about an hour at an initial visit. We'll update your records with necessary X-rays, talk with you about your medical and dental history, and discuss your concerns and expectations. Then, the dentist will perform a comprehensive checkup. You can also receive a comprehensive dental cleaning at your first visit. Afterwards, the dentist will explain our findings from the checkup and discuss treatment options to return your mouth to optimal health.
Registration Forms
For your convenience, you can download and complete registration forms at home prior to your first visit. If you have questions about these forms, please call us. Bring the completed documents to your appointment, and we'll expedite registration. Of course, if you prefer, you can come a few minutes early and complete the registration forms at our office.
Registration Form
HIPAA Form
Cancellation Policy
Payment Options
We accept cash, personal checks, Discover, MasterCard, and Visa as forms of payment. We also offer no-interest financing for most cases through CareCredit. Ask for details!
Insurance
Wahl Family Dentistry accepts most insurance plans and accepts assignment of benefits. Our staff is very knowledgeable about most insurance plans and works hard to maximize your insurance benefits. We are in-network providers for most Cigna, Delta Dental, United Concordia Elite, and Benecare plans.
Emergency Dentistry
As your preferred oral healthcare provider, Wahl Family Dentistry will be here when you need us – even in emergencies. If you experience a dental emergency, please call the office, and we'll see you promptly. We can usually see you the same day. We welcome emergency patients.