Dental FAQs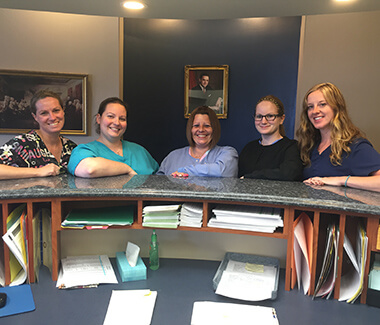 Is gingivitis (early gum disease) something to be concerned about?
Gum disease is a progressive condition shared by about 80% of the adult population and is responsible for most tooth loss in this demographic. It has been linked to increased risk for stroke, heart attack, dementia, low-weight births, and diabetes complications. If your gums bleed, appear red and swollen, or feel tender, you may have gum disease. To stop the progression, you'll need to visit the dentist and hygienist as soon as possible.
Will the Wahl Family Dentistry team provide dental care for my children?
Yes! We love kids. Visit our services page about children's dentistry, and check out the Kids' Corner page for more information about what we have to offer your children.
What are my options to replace missing teeth?
Our dentists offer many options to replace missing teeth. Read about bridges, partials, dentures, and implants in our services pages.
Does Wahl Family Dentistry offer cosmetic dentistry?
Absolutely. Our dentists have undergone postgraduate training in contemporary cosmetic procedures, so we offer teeth whitening, porcelain veneers, and many other smile-enhancing services. Read about cosmetic dentistry here.
How can I pay for my dental care?
We make paying for dental care easy. In addition to accepting credit cards, filing insurance, and offering online payment, we work with third party financing companies to make large treatment plans affordable for our patients. Learn more about payments and financing here.