Children's Dentistry for Wilmington, DE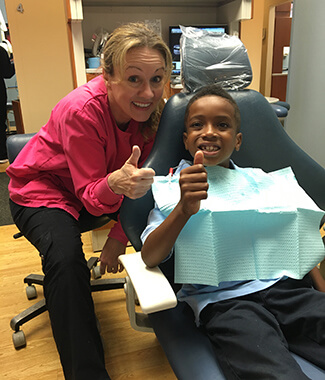 As your family dental care providers, our dentists can provide comprehensive, age-appropriate care for your entire family, including children. We love kids! There's something special in knowing that the dental care we provide your child will live on for years to come. That precious smile will be shining and inspiring people after we retire. Plus, your child can enjoy a lifetime of good oral health because at a young age, he or she learned the importance of proper dental care. It's rewarding to be a family dentist! Each of the dentists at Wahl Family Dentistry has their own children, and we love making children smile! Some adults have psychological fears of the dentist, which stem from poor experiences as children. We think it is extremely important for children to enjoy their dental visits so that they can grow up without any fears of necessary dental treatment. We therefore go out of our way to make the visit as much fun as possible. Be sure to ask Dr. Mike to juggle for your children, and all our dentists enjoy hearing about what's going on in your children's lives. Good boys and girls always get special prizes from the treasure chest, which is shaped like a happy tooth.
Your Child's First Dental Visit
By the age of three, your child will usually have all the primary (baby) teeth and be ready for his or her first dental visit, but if necessary, we are happy to see your child earlier. The doctor will familiarize your child with the people, sights, and sounds of our office. We like using friendly names for our various tools and equipment. For example, the aspirator tip is "Mr. Thirsty," and we like to show children how to make Mr. Thirsty "drink" a whole cup of water fast! The overhead light is "Mr. Sunshine" because when you open your mouth, "it's dark in there!" Our goal is to make young children feel comfortable and welcome in the dentist's office so that later in life, they have no reservations about professional oral healthcare. At the first visit, we'll inspect your child's teeth and gums and then answer all of your questions.
Dental Sealants & Fluoride Treatments
The doctor may suggest dental sealants or fluoride treatments to deter tooth decay on young teeth. Sealants are clear plastic coatings that create a barrier between tooth enamel and contaminants. Because children often have trouble keeping molars clean, sealants are ideal for back teeth. To administer fluoride, we usually offer a flavored mouth rinse. Fluoride is a mineral that, in small doses, attracts other minerals to strengthen tooth enamel. Sealants, fluoride supplements, and daily brushing and flossing will go a long way toward preserving your child's oral health.