Protecting Children's Teeth with Dental Sealants in Wilmington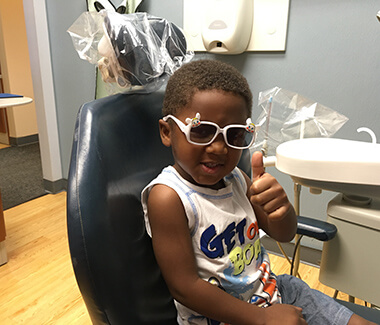 Patients who have deep crevices and indentations on their teeth are at an increased risk for tooth decay because food particles, bacteria, plaque, and tartar are able to accumulate within these pits and grooves. Dental sealants are most commonly recommended for kids who are developing their brushing and flossing skills and may not be able to thoroughly clean the deep pits and other hard-to-reach parts of their smiles. For these patients, fast, comfortable dental sealants, a thin coat of plastic that can be applied to teeth, protect teeth from decay by filling in the grooves in teeth and sealing out bacteria. The American Dental Association regards dental sealants as a key solution for preventing tooth decay.
The treatment process is simple. We discover any areas of the teeth that are already decayed and restore the tooth. Then, we apply an etching solution that will prepare the tooth to receive the dental sealant. After about fifteen seconds, we remove the etching solution, dry the teeth, and apply the coat of dental sealant. Once in place, we use a curing light to harden the sealant. The entire treatment takes less than an hour, and we're happy to apply sealants as part of regular dental checkups. With proper care, sealants remain effective for up to ten years.