Treating Cavities with Tooth Fillings in Wilmington, DE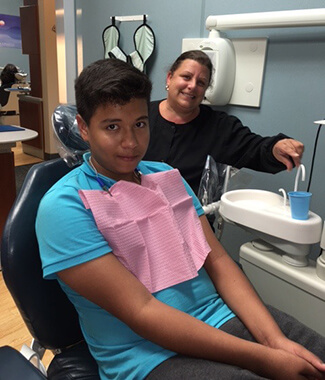 Tooth decay, clinically known as dental caries, is the most widespread childhood disease. Estimates show that 90% of American adults have experienced a cavity. At some point, you and your family members will probably have a cavity – which means you'll need a filling.
Tooth Filling Options
For front teeth, our dentists offer white, composite resin fillings. These restorations contain no metal, no mercury, and they blend with tooth enamel for a natural appearance. Composite fillings can be completed in one visit. After preparing your tooth by removing decay and bacteria, the dentist will apply a small dab of custom-tinted, liquid resin to the cavity. A soft curing light hardens the material, and then we polish and shape the filling.
For back teeth, our dentists usually offer a choice between composite resin or amalgam (silver) fillings. After explaining the advantages and disadvantages of each type of filling, we allow you to make an informed decision. Whether amalgam or composite resin is used at Wahl Family Dentistry, every filling is bonded to the tooth, reducing sensitivity and sealing the restoration, helping to prevent bacteria from causing future decay. Our dentists pride themselves at being on the cutting edge of technology and have researched and published several important articles on composite resins and amalgams in national and international dental journals.