Wilmington Dental Crowns & Bridges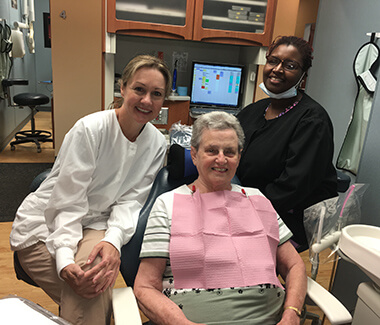 Why would you need a crown? If a tooth becomes damaged by a deep cavity, fracture, or chip and a filling won't provide sufficient structural integrity, your dentist will suggest a crown. At Wahl Family Dentistry, we prefer to place natural-looking restorations that are designed to last.
For front teeth, all-ceramic IPS e.max or porcelain-fused-to-metal crowns preserve an all-white smile. Teeth further back in the mouth must endure intense pressure, so our dentists usually place all-ceramic bruxZir, porcelain-fused-to-metal, or all-metal crowns on molars. The crowning procedure requires two visits. The dentist will prepare your damaged tooth, take an impression for our lab, and place a temporary crown. You'll wear the temporary while the lab fabricates your custom restoration. At your second visit, the doctor will remove your temporary and secure the permanent crown in place.
Zirconia Crowns
While we offer a number of dental crown materials (each with its own advantages), we consider Zirconia crowns to be the new standard in restoration materials. Gold crowns offer superior strength necessary to restore back teeth, but they are obviously unnatural within smiles. Porcelain bonded to metal crowns look more like natural dental structures, but they wear surrounding teeth more quickly and as the porcelain layer is worn away, the darkly colored metal is revealed. All ceramic crowns offer long lasting natural color even with wear, but they may damage surrounding teeth. Zirconia crowns offer the best of both worlds. They closely match the natural color of smiles and provide durable, long lasting restoration that will not cause excessive wear.
Dental Crowns & Fixed Bridges
Dental crowns are also used as part of root canal therapy to restore the full shape and structure to treated teeth and as part of fixed bridge or implant-supported tooth replacement. Fixed bridges are crafted from one or more replacement teeth that are connected to two dental crowns on either end that attach to healthy surrounding teeth to support the tooth replacement prosthetic. The placement process is the same for a fixed bridge, taking place over the course of two appointments. During the first appointment, we prepare the surrounding teeth to receive dental crowns, and at the second visit, we place the bridge.