Building Beautiful Smiles with Porcelain Veneers in Wilmington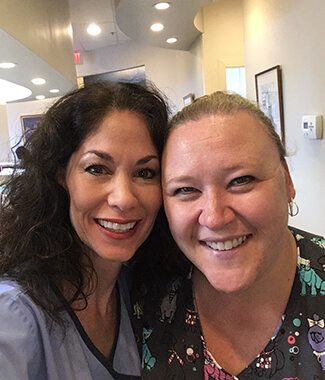 Imperfections in front teeth, from discoloration and staining to misalignment, chips, and odd spacing, can dramatically impact a person's appearance, confidence, and success. Contemporary cosmetic dentistry has made smile makeovers less invasive, more predictable, and faster than ever. The Wahl Family Dentistry team of dentists has undergone advanced training in the design and placement of high-quality porcelain veneers.
Made of durable, light-reflecting porcelain, dental veneers transform the appearance of front teeth. Each porcelain veneer is specifically designed and then hand-crafted, to look natural and beautiful. In most cases, veneers require two office visits. Our doctors offer traditional veneers, including IPS e.max, as well as minimal preparation brands like Vivaneers. Depending on the size and shape of your natural teeth, your cosmetic dentist will recommend the most conservative and natural looking veneer for your case.
Schedule a Smile Makeover Consultation
At your smile makeover consultation, we'll review your records and discuss your preferences. What do you like about your smile? What do you dislike? We'll also review photos of before-and-after cases, as well as any model photos you bring to the visit. By defining your expectations and preferences, the dentist will be prepared to design veneers that will deliver the smile you've always wanted.