Building Confident Smiles with Dentures for Wilmington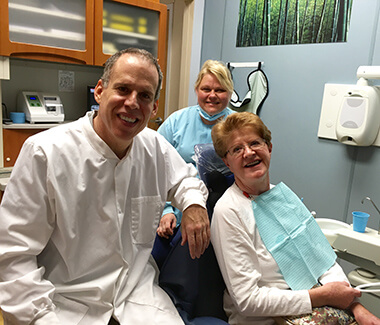 Edentulous (toothless) patients, or those missing a few teeth, can reclaim quality of life, comfortable oral function, and self-confidence with modern, natural-looking prosthetics. Just one missing tooth can cause remaining teeth to shift out of place as they compensate for the increased workload. When teeth move, appearance and occlusion is altered. This can lead to cosmetic problems, as well as teeth grinding, headaches, and TMJ dysfunction. Furthermore, missing teeth allow the jawbone to deteriorate and can lead to additional tooth loss. We recommend patients replace missing teeth as quickly as possible to prevent these oral health problems.
Traditional Dentures
The traditional prosthetic to replace all teeth on a top or bottom arch is a denture. At Wahl Family Dentistry, patients can choose from traditionally secured dentures, which require natural suction or adhesive, or implant-retained dentures that are held in place with dental implants.
Partial Dentures
If a full row of teeth isn't necessary, your dentist may suggest a partial denture. A partial replaces multiple teeth on one arch. The teeth, attached to a custom-fitted base, fit with existing teeth like a puzzle. Partials can be fixed or removable, and they normally attach to the mouth with clasps fastened to healthy teeth. Implants can also secure a partial denture.
Other Tooth Replacement Options
If you're missing one tooth or a few in a row, a bridge might be the best option. Crown-and-bridge systems consist of one or more prosthetic teeth anchored to crowns. The crowns fit onto healthy teeth and secure the bridge in place. Bridges are non-removable (fixed) appliances. They can, however, be anchored to dental implants instead of natural teeth.