Root Canals & Endodontics for Wilmington, DE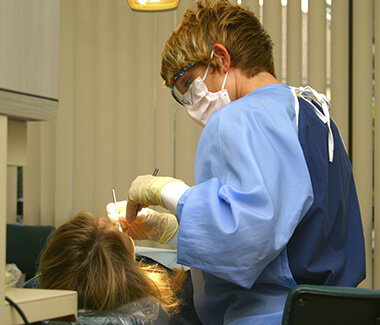 Endodontics refer to the special area of dentistry that deals with internal parts of a tooth. If you're struggling with severe oral pain, an excessive sensitivity to hot and cold temperatures, or swollen gum tissue, you may have an internal infection that needs immediate assistance. Thankfully, our team is happy to help. We always do everything in our power to help patients preserve their natural teeth and keep them healthy over the years, right here in the comfort of our Wilmington dental office.
When is a Root Canal Needed?
A root canal may be suggested for a tooth with an infection. Inside our teeth, canals house a nerve, also called the tooth's pulp. When a deep cavity or fracture reaches a tooth's canal, infection can infiltrate the pulp. As infection grows, pressure builds to cause an intense toothache. Left untreated, the infection can spread and cause significant health concerns. Root canal therapy may save the tooth and prevent the need for extraction. In this way, a root canal is a conservative procedure!
What to Expect During a Root Canal?
During a root canal, our team will remove all traces of infection from a tooth's canal, clean the canal, and insert gutta percha, a safe, natural form of rubber, in place of the dental pulp. The treated tooth is then topped with a custom-fabricated crown.
Modern root canal therapy can often be completed in a single visit. We offer oral sedation to promote a comfortable and rewarding procedure with televisions on the ceilings of our operatories. Your wellbeing will always come first, so don't hesitate to let us know if there is something more we could be doing to help you feel right at home throughout the appointment. By the time you're ready to leave, your toothache should be gone!