Root Canals & Endodontics for Wilmington, DE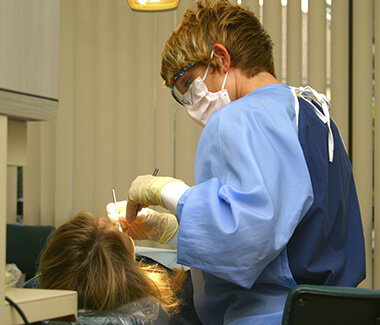 Endodontics refer to the special area of dentistry that deals with internal parts of a tooth. Dr. Pat Wahl is an endodontist (a specialist in root canal therapy.) After graduating from Temple University School of Dentistry in 1990, Dr. Pat completed a year of general practice residency at Christiana Care Health Services and then completed two years of endodontic specialty training at the University of Pennsylvania School of Dental Medicine in 1993. Dr. Pat limits his practice to endodontics. He performs root canal treatment for our patients in the comfort of our new Wilmington dental office.
When is a Root Canal Needed?
A root canal may be suggested for a tooth with internal infection. Inside our teeth, canals house a nerve, also called the tooth's pulp. When a deep cavity or fracture reaches a tooth's canal, infection can infiltrate the pulp. As infection grows, pressure builds to cause an intense toothache. Left untreated, the infection can spread and cause significant health concerns. Root canal therapy may save the tooth and prevent the need for extraction. In this way, a root canal is a conservative procedure.
What to Expect During a Root Canal?
During a root canal, Dr. Pat removes infection from a tooth's canal, cleans the canal, and inserts gutta percha, a natural form of rubber, in place of the dental pulp. The treated tooth is then topped with a custom-fabricated crown. Modern root canal therapy can often be completed in a single visit. We offer oral sedation to promote a comfortable and rewarding procedure with televisions on the ceilings of our operatories. Most patients find Dr. Pat's sense of humor to be pleasantly distracting (although some may disagree!) Years ago, he performed a few times as a stand-up comedian at the old Comedy Cabaret in Wilmington during audience night.