A woman spreading the word about her new grandson accidentally texted a complete stranger on Saturday. He responded in the best possible way.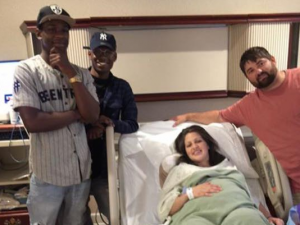 Deorick Williams of Tallahassee, Fla., tells Fox 13 that his brother, Dennis Williams, started getting texts about the impending birth of a baby at a hospital in Bainbridge, Ga. "We are at the hospital. Having a baby today!" read the first, according to a Facebook post that has so far been shared 195,000 times.
"Congrats lol but I think someone got the wrong number," Dennis replied. Then came a photo of newborn Cason Knox, born to parents Mark and Lindsey Lashley, per WTHR. "Well I don't know Yall but me and the boys will be thru to take picture with the baby," Dennis added.
The grandmother quickly apologized for having included him in the group conversation, but the Williams brothers were adamant that they wanted to meet the new baby and his parents. And they indeed appeared at the hospital — having driven an hour from their home — bearing gifts of diapers, pacifiers, and baby bottles, reports ABC News. They also took a photo with the new parents.
"We had a great time," Deorick says. "I was invited already, so I thought I might as well go. And why not bring gifts?"
"What a blessing these two guys were to our family," the grandmother adds on Facebook. "They were so sweet and kind to do this! You 2 are great guys and thank you for giving to someone you didn't know! … If we all only had this kind of a heart."
http://www.usatoday.com/story/news/nation/2016/03/22/strangers-get-errant-text-visit-new-mom-hospital/82111800/
Originally posted by: Arden Dier, Newser staff 10:01 a.m. EDT March 22, 2016