Our blog has many followers, and for that we are very grateful.  We are going to start featuring some of our readers in blog entries.  If you would like to be featured, just let us know.  For our inaugural feature, we have Sherry Welch, an avid reader of theWahlFamilyDentistry.com blog.
Occupation: Assistant Office Manager, insurance processing
Employer: Wahl Family Dentistry
Family: Husband Kyle and 2-year-old daughter Claire, another baby on the way.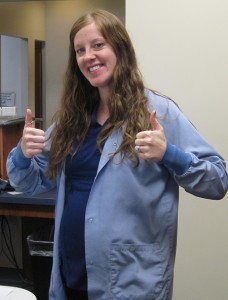 When I usually read the blog: "Whenever I'm really bored, and there's nothing else to do."
What I like best about the blog: "I'm in charge of the Facebook account for our office so when I'm feeling really lazy, I can just lift the blog entries over to Facebook.  It's awesome!"
What people don't know about me: "I have a really short temper, and my husband and I have been in some epic fights."